GURURAJA GROUPS. TUMKUR - 572106.
---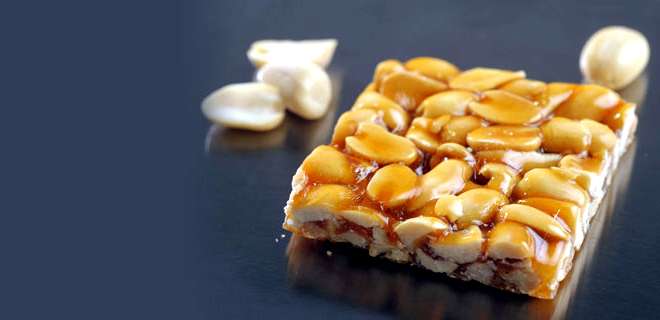 A hard crunchy bite and sweetness melting into your soul......
Peanut Chikkis are the South Indian Traditional energy food bar is made from best quality peanuts, and Jaggery. Though Indian use peanut in different manner in daily use in spices, oil and many more but it has significance in fast (Vrat) because of its nutritional values and it is most popular form is peanut chikki. Even in fast you can eat it that full fill your nutritional requirement of day.
---
Ingredient Details:
Product Name: Peanut Chikki
Ingredients Used: Peanut and Jaggery
Nutritional value in Calories: (Per 100g)
| | |
| --- | --- |
| Protein | 16.87g |
| Total Fat | 16.87g |
| Total Carbohydrate | 52.64g |
| Dietary Fibre | 2.96g |
| Energy (Calories) | 512.49 Kcal |
| Total Sugar | 41.88g |
| Calcium | 0.12g |
| Cholesterol | Nil |
| Vitamin B3 | 13.8mg |
| Vitamin E | 6.68mg |
Google Translate
Content View Hits : 21431